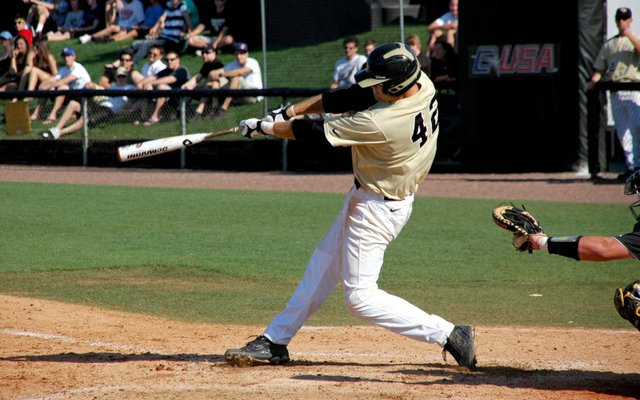 The No. 10 Knights are streaking after blasting off against Southern Miss and going on a tear across the country on the baseball diamond.
After trashing Southern Miss, they came back home for a one-game showdown against Florida Atlantic on April 17. The bats stayed hot for UCF (34-8, 12-3), thanks in large part to the middle and bottom of their batting order. JoMarcos Woods went 3-for-4 with two RBIs, while Nick Carrillo, Erik Barber and Travis Shreve all contributed two RBIs on their own. Erik Skoglund's seven strikeouts helped carry the win.
Against Tulane (26-14, 5-7), three straight nail-biters in New Orleans ended with the Knights sweeping just their second conference series of the season.
Never had a series been tougher for the Knights this year, with the first game ending 1-0 thanks to a Jeramy Matos solo shot that sailed into the night over left center field. That would be the only run in the game, after the Green Wave threatened repeatedly with 10 hits but couldn't connect enough to make it home.
What few could have predicted was a 15-run slugfest to follow in Game 2, as the Green Wave tried to get revenge and the Knights fought desperately to hold onto an early lead. That would prove futile for UCF through nine innings, as they entered the bottom of the ninth ahead by two runs, only to watch in horror as Tulane plated two to tie things up.
Two scoreless innings would follow before the Knights found their swing again, thanks to a pair of doubles by D.J. Hicks and Alex Friedrich, who combined for the deciding run in the 8-7 victory.
Tulane attempted another wild comeback in the series finale, with the Knights jumping ahead with six runs early. Four of those runs came courtesy of Chris Taladay, who blasted three triples for four RBIs. Roman Madrid grabbed the save with a scoreless ninth.
What's next for the Knights? A three-game homestand against Memphis (17-23, 6-9) this weekend starts at 6:30 p.m. Friday, April 27. They'll play another at 4 p.m. Saturday and 1 p.m. Sunday before taking a short walk to Stetson for a 6:30 p.m. Wednesday, May 2, game.
Tars Triumph in Massachusetts
A wild up and down swing ended on a high note for Rollins baseball (24-16), which bamboozled Bentley (22-20) in a 7-4 comebacker on April 24. Zach Persky brought home three runners with an RBI double in the win.
The Tars will head to conference rival St. Leo for a three-game series this weekend, with an oddball schedule starting with the first game at 6 p.m. Thursday, April 26, followed by a doubleheader at 1 p.m. and 4 p.m. on Sunday.