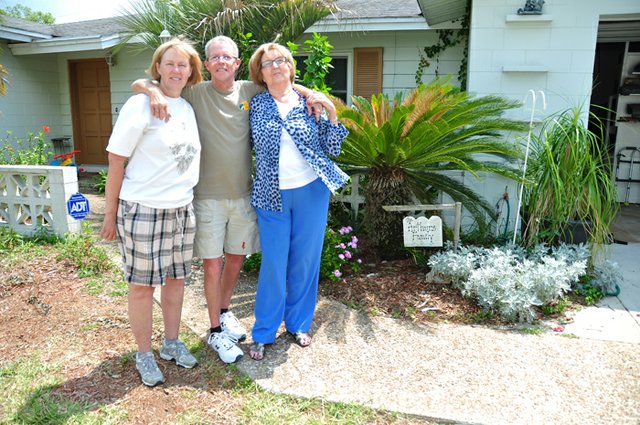 Carole Arthurs spent 20 years at the Winter Park-Maitland Observer. Arthurs has also worked at The Park Press, and was involved with many organizations in the community, such as the University Club of Winter Park, and the Winter Park and Maitland Rotary clubs.
Many people start to look toward retirement when they're 55. They shore up their savings and turn the page on a more relaxed chapter of their lives.
But for Carole Arthurs, age 55 was the beginning of a journey that would have her interviewing former President George H.W. Bush, the Backstreet Boys, and even Captain Kangaroo.
Arthurs joined the Winter Park-Maitland Observer, headed by publisher Gerhard Munster, in the late '80s, becoming one of the area's most familiar faces during her more than 20 years with the paper. She recently bid the community a fond farewell as she headed to North Carolina to live with her daughter, leaving behind a lifetime of friends, memories and special connections.
During her time as a journalist, she became well known for staying true to the field's most solemn obligation: accuracy. Winter Park Mayor Ken Bradley recently gave her a proclamation, honoring her service to the community.
"I've been interviewed by national media in my role as mayor, and let me just say this, they never got it right. Carole gets it right," he said.
When the paper first began, the staff was made up of Arthurs, Munster, and Munster's mother, who was the company bookkeeper. This forced Arthurs to become a jack-of-all-trades, writing, taking photos, editing, selling advertising and even pasting up the newspaper on production days.
For some of her stories, she went beyond simply doing interviews, immersing herself into topics. Arthurs recalls going through the Winter Park Citizens Police Academy, as well as the Maitland Citizens Police Academy, so that she could do a story about them.
"I knew the organization existed, and I knew most people didn't know about it," she said. "I also wanted to get more people interested in going through the program so that if there ever was a disaster, you would have citizens able to help."
She also became certified as a member of the Maitland Community Emergency Response Team with the same goal in mind. She has many fond memories from her reporting days, such as when she went to cover a press conference with President George H.W. Bush at Walt Disney World, with her trusty recorder and camera in tow.
"Here I am, this little old girl in the middle of all these seasoned reporters, holding up this little recorder, and all of these seasoned reporters had their big, huge cameras," she said. "And here I am, I'd never been on a press conference in my life. It was something else."
After the Observer, she would go on to work for The Park Press and eventually became involved in the community as a member of many chambers of commerce, as well as rotary clubs and other community service activities.
Debra Hendrickson, vice president of the Winter Park Chamber of Commerce, recalls Arthurs' work in Leadership Winter Park, a program that identifies and promotes potential leaders from the business community who desire to become involved in making a difference in Winter Park. Arthurs is a graduate of the 1996 class of that program.
"She kind of went from being a student, to being on the board of directors, to being a leader of a class," Hendrickson said. "She was always willing and able to participate as a volunteer and as a leader for Leadership Winter Park."
Bob Mellen, former president of the Maitland Rotary Club, said Arthurs was dedicated to editing the Rotary's weekly bulletin, as well as times she would lead the club in song.
"She was incredibly dedicated," he said. "She led the singing, and she would come up with a lot of really clever songs to sing other than Rotary songs."
Arthurs said she now plans to continue her work in photography, which became one of her lifelong passions after Munster talked her into starting her own photography business, Carole Arthurs Photography, in case something happened with the paper. She continues to take photos today and has received many awards for them.
Arthurs will always be remembered for the mark she's left in the Winter Park and Maitland communities. Bradley described Arthurs not just as a committed reporter, but as a friend.
"Carole was a true friend of the community," Bradley said. "If you spend time with Carole, you know that afterwards you're better than you [were] before you spent time with her. I think that's a great testimony for her and for her work, and for her legacy in this community."