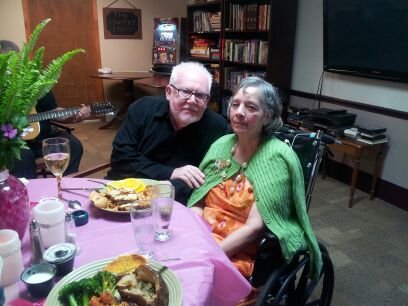 Former missionary and current resident Nilsa Diaz, who struggles with dementia, and her husband, Victor Diaz, who is a local pastor and volunteer chaplain at Winter Park Care and Rehabilitation, sat down to a candle-lit supper at Winter Park Care and Rehab to celebrate their 53 years together on March 14. The entire night was dreamt up by employees Dollene Torres and Evelyn Coley. A crisp, fresh salad, savory steak, crunchy shrimp and luscious chocolate slabs of cake were served along with chilled, sparkling juice in tall rose-tinted glasses. Live guitar music wafted in and out. The husband spoke many words of love to his wife of 53 years. Unfortunately, the wife was unable to respond with words that he longed for until…
About half way through the meal, she softly uttered one word that broke through the mix of jumbled words, before she quickly dropped back into a private conversation that none of us understood, try as we might.
That one word that made him cry? That one word that shattered dementia, if only for an all too fleeting second?
"Anniversario."
The guitar stopped. The servers stood still.
They were 19 again.
Larry Limbaugh is a chaplain at Winter Park Care & Rehabilitation Center. Email chaplain.winterpark@signaturehealthcarellc.com