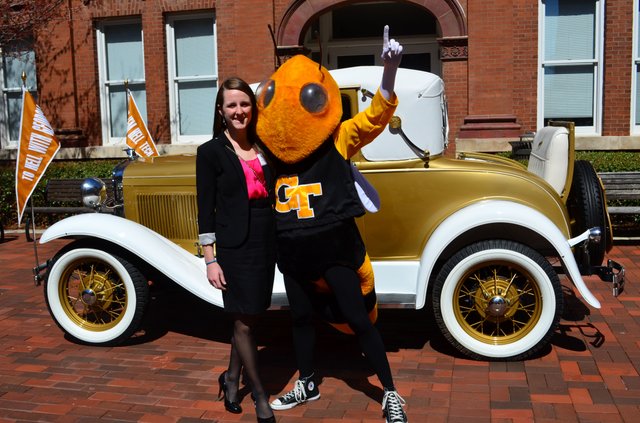 Maitland's presidential scholar
The Georgia Institute of Technology has named Katheryn Stephens of Maitland, an industrial and systems engineering major, one of its 75 President's Scholars. Considered the most prestigious merit award offered to incoming Georgia Tech first-year students, the scholarship emphasizes scholarship, leadership, progress and service. More than 530 semifinalists were evaluated. Over four years, President's Scholars from Georgia will be awarded a package valued at about $60,000 while out-of-state recipients will receive $112,000. For more information, visit psp.gatech.edu
The real story at Rollins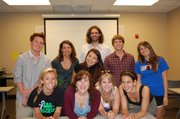 Rollins' Department of Critical Media and Cultural Studies presented a viewing of Susan Saladoff's documentary "Hot Coffee on Monday," March 19. It reveals what really happened to Stella Liebeck, the Albuquerque, N.M., woman who spilled coffee on herself in 1992 and sued McDonald's. Saladoff took part in two discussions on Friday, March 23. Visit hotcoffeethemovie.com/Default.asp
Family's new home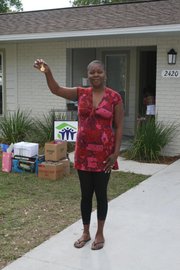 Habitat for Humanity of Greater Orlando Area dedicated the completed renovation of a foreclosure home to the Major family. Fourteen homes in the Pine Hills area have been purchased and are currently undergoing many improvements, such as AC and appliance installation and roof repair. Each home will be sold to an applicant in the Habitat homeownership program in Central Florida. Pictured, new homeowner Michelle Major shows off the keys to her new Habitat home.
Chipotle's Earth Day deal
This Earth Day, April 22, Chipotle Mexican Grill will reward eco-friendly customers with a free burrito, bowl, salad or order of tacos if they purchase a Chipotle-branded repurposed billboard bag from Chipotle's online store, store.chipotle.com, between now and April 14. Proceeds from the sale of the bags will go to the Chipotle Cultivate Foundation.
Full Sail offers game scholarship
The International Game Developers Association Foundation / Full Sail University Game Development Scholarship is designed to identify students nationwide who are passionate about and exhibit talent for software development in the game industry. Through this program, qualified applicants may receive up to a full-tuition scholarship toward Full Sail University's campus-based Game Development Bachelor of Science degree program. The application must be submitted by April 15. Visit tinyurl.com/FullSailScholar
Winter Park shop seeks donations
The Winter Park Benefit Shop, a longtime community thrift shop at 140 Lyman Ave., in Winter Park, needs items to sell: clothing, bedding, jewelry, kitchenware, and bric-a-brac. They also need volunteers. The shop is open 9:30 a.m. to 1 p.m. every Tuesday and Friday, and from 10 a.m. to 1 p.m. on Saturday. Proceeds support children's programs and the Blind Association Of Central Florida. Please call Elizabeth Comer at 407-647-8276.
Play some ball for charity
The Annual Friends of First Response-Maitland Kickball Fundraiser is at 1 p.m. on Sunday, April 22. Six teams will play at Keller Fields. A $10 T-shirt donation is required to play on a team. Sponsors and auction items are needed. Contact June Flowers at june@flowerslabs.com
Join Relay for Life
The American Cancer Society's Relay for Life of Maitland is an overnight relay-style walking event that will take place at Orangewood Presbyterian Church April 27-28. Opening ceremonies will take place at 6 p.m. on Friday, and closing ceremonies are at noon on Saturday. The event will also honor cancer survivors with a special lap and survivor dinner on Friday night. Visit relayforlife.org/maitlandfl or email maitland.relay@yahoo.com
Send submissions to editor@observernewspapers.com