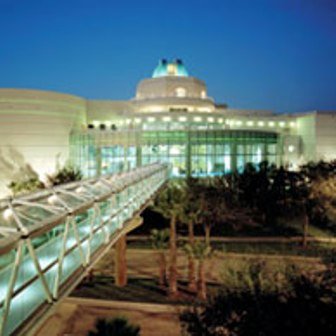 For their 13th annual benefit gala, Evening in the Grove, the Maitland Art & History Museums will honor the accomplishments of Rep. John Mica with a cocktail reception, dinner, entertainment and live and silent auctions. Scheduled for Sunday, Oct. 16, at 6 p.m., the dinner will be held at the Sheraton Orlando North at 600 N. Lake Destiny Drive in Maitland with proceeds benefiting the Museums' programs for children and adults. "Congressman Mica has done so much for this community and our tribute during dinner will be an opportunity for the community to thank him for his hard work and dedication," Executive Director Andrea Bailey Cox said. Balancing the political tone of the evening, Democratic spokesperson — and tireless worker for children's causes — Dick Batchelor will be on-hand to serve as emcee for the gala. Tickets, sponsorships and a private cocktail reception with Mica are available. Contact Juliet at 407-539-2181 ext. 262 or visit www.artandhistory.org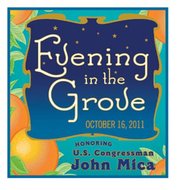 It's a Bug's World
The Orlando Science Center has opened its doors to a bug invasion as the museum hosts its new multi-sensory exhibit called "Harry's Big Adventure: My Bug World"! through Jan. 1. The exhibit surrounds visitors in the world of bugs and combines hands-on technology with creepy, crawly fun. Developed by Terminix and hosted by Harry, a praying mantis, "My Bug World" tours the living spaces of our ecosystem's smallest contributors. Young guests get an opportunity to explore habitats such as a cropland, forest, swamp and even a house to see how insects impact their surroundings — and human lives. The exhibit is very interactive, with 20 hands-on things to do. On weekends, the bug chef is on hand with food made from bugs. Yes, I even tasted a bug before writing this … and I'm here to tell the tale. Call 407-514-2000 or visit www.osc.org
Maitland Rotary's art festival
Art Under the Stars in Maitland, the only nighttime art festival in the state of Florida, will be held Friday, Sept. 30, through Sunday, Oct. 2, with artists' booths (as well as food and entertainment) remaining open until 10 p.m. on Friday and Saturday evenings. The all-volunteer event hosted by the Rotary Club of Maitland is free. Help support the work of more than 150 artists and enjoy the food and live entertainment, including a concert on the lawn by the Maitland Symphony Orchestra. Artists will receive more than $20,000 in prize money along with special awards presented to young artists from local schools. It's held at Lake Lily Park, on the corner of U.S. Highway 17-92 and Maitland Avenue. Call 407-782-9714 or visit maitlandrotaryartfestival.com
'Sing out, Louise!'
Throughout its long and distinguished history, The Juilliard School (at Lincoln Center in New York City) has maintained a commitment to providing quality education to talented young performing artists from around the world. Representatives from Juilliard are coming to Edgewater High School on Sunday, Oct. 2, from 6 p.m.-8 p.m. with a presentation on how to apply to — and audition for — The Juilliard School. This is the college's first such admissions event in Central Florida, and it is open to students, parents and high school teachers. With many successful Juilliard graduates coming from and working in the Central Florida area, this event seeks to "identify and attract the most talented young performing artists from around the world, ensuring that financial considerations are not a deterrent to their enrollment." You can even take a virtual tour of the campus. Visit www.juilliard.edu or call 212-799-5000.
Orchestra and Voice Part II
Playing from strength, maestro Christopher Wilkins of the Orlando Philharmonic likes to open his seasons with programs of orchestra and voice as witnessed by the superb Verdi/Puccini evening that recently opened the Orchestra's Bob Carr season. The more intimate "Focus Series" will also feature orchestra and voice on Monday, Oct. 3, when the OPO presents "The Great Arrangers" — orchestral arrangements of folk songs, dances and ballet music in the first concert of that series. Featuring the robust vocals of baritone James Brown III, the concert takes place at 7 p.m. at the Shakespeare Center, 812 E. Rollins St., in Orlando. Call 407-770-0071 or visit www.orlandophil.org
Who is Garrick? Josh Garrick is a writer, photographer, educator, and fine art curator. He is a member of the Curatorial Council for the Museum of Florida Art. Garrick can be reached at joshgarrick9@gmail.com or 407-522-3906.