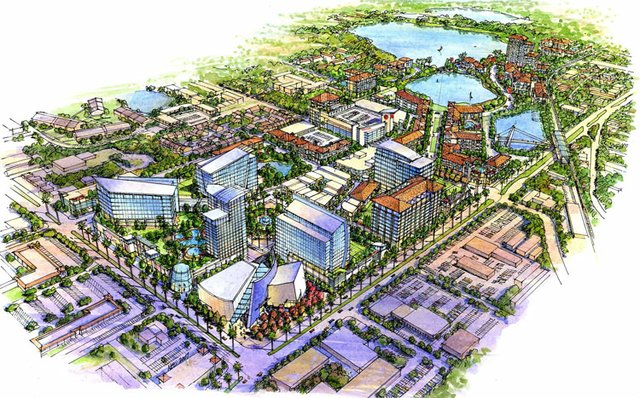 There's a looming giant in the space between Winter Park and Maitland, and nobody knows what it wants, or how to handle it.
But Winter Park, Maitland, Orange County and developer Benjamin Partners are all trying to work together, however confusingly, to bring the tongue-twisting Ravaudage mixed-use development to the area.
The question seems much less of an "if" than a "when," given the patient bulldozing momentum of the past 14 years that Benjamin Partners have needed to gradually buy out the more than 50 acres of land on which the development will be built.
And in that time, they've slowly given the cities involved a glimpse of what could be theirs, a giant development of office buildings, residences, restaurants and retail stores, all within walking distance of each other and a series of man-made lakes. And it all would be landing smack in between the two municipalities that would have a big stake in the project's final outcome.
But that outcome has changed much over the past decade, as America has gone from one of the biggest economic booms in its history and arrived in the worst recession since the black-and-white days of soup kitchens and the dust bowl.
Ravaudage is a dream come true for both cities if done right, and a nightmare if done wrong. And doing it wrong could include cutting Maitland out of the deal entirely. That's a possibility, given a recent proposal by developer Dan Bellows.
The issue driving the somewhat nebulous sense of urgency for the project is cash flow. Bellows said he wants to prove to potential investors that the project can already bring in money. The key to that: building the first restaurant, at the site's southeast corner along the intersection of Lee Road and U.S. Highway 17-92. Benjamin Partners needs Winter Park's approval to do it.
Faced with a pressing decision, Winter Park put the brakes on the decision-making process to figure out a way to keep Maitland in the deal and to avoid any problems brought by a rush to build.
Could Benjamin Partners back out of the deal with the cities and put the project on Orange County land? That doesn't seem likely, even with some foot dragging by Winter Park's City Commission.
But up in Maitland, where a downtown project has stalled repeatedly while the city's centerpiece has remained a dead Winn-Dixie for the better part of a decade, things could be more urgent. In the nearby Village at Lake Lily development, there have already been talks of poor visibility for the RanGetsu Restaurant and Orchid Lounge not helping bolster the customer base. Piecemeal restaurant projects nearby have done little to create a homogenous, walkable downtown experience like Winter Park's Park Avenue, Hannibal Square and Winter Park Village areas.
Maitland needs a development like Ravaudage. It'll help the tax base, create jobs and bring visitors to the city who otherwise would have passed it by for Winter Park, College Park or downtown Orlando. And with the added benefit of tying the two close-knit cities together, the deal seems to be a win-win for a city that truly needs it.
Winter Park has a delicate balancing act ahead of it: Work to keep Maitland in the project while not dragging its feet so long that Benjamin Partners gets cold feet of its own.