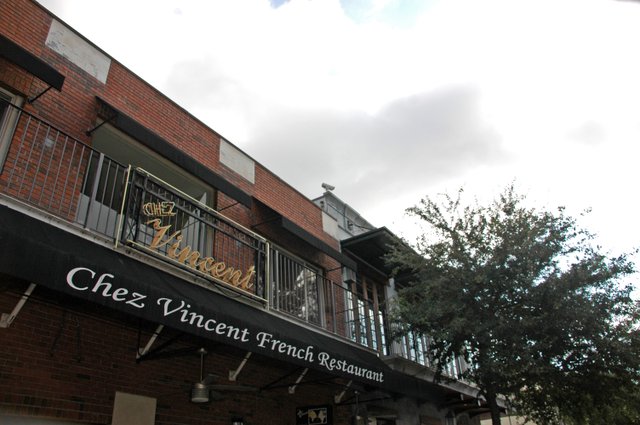 Entering the very French restaurant Chez Vincent on West New England Avenue in Winter Park is like stepping into a family restaurant in the Auvergne region of France. The feeling is real because chef Vincent Gagliano grew up and trained in the Auvergne, and he and his wife, Teri, have created a charmingly intimate French bistro with a perfect combination of white table-cloth elegance and welcoming atmosphere.
September is Magical Dining Month in Central Florida, and Chez Vincent is one of three Winter Park restaurants included in the list of fine restaurants offering $30 three-course meals from Sept. 1-30. (Also participating are Luma on Park and Flemings Prime Steakhouse in Winter Park, RanGetsu in Maitland and Lago in Baldwin Park) In true pioneering fashion, I tried everything on the Chez Vincent special menu.
Having been greeted with European flair by French-speaking waiters, I started with the mushroom soup. You may notice that I'll use the word "perfect" throughout this review, and this is the case with the mushroom soup. To create this signature soup with the perfect consistency and the correct touch of earthy taste is one of the tests of fine cuisine. Chef Vincent's is perfect. With my love of mussels, however, I highly recommend the rich and creamy mussels appetizer, smothered as they are in their very French — and very buttery — goodness.
Learn more
Chez Vincent is at 533 W. New England Ave. in Winter Park. They are open daily from 11:30 a.m. to 2 p.m. and 6-10 p.m. Visit chezvincent.com or call 407-599-2929 for reservations.
Before the main course(s), I enjoyed the warm and crusty bread with assorted, flavored butters, which arrive at your table as part of the chef's sincere desire to make every dining experience memorable. The bold choice of the entrées is the blackened fish and shrimp combination in a Grand Marnier sauce. Chef Vincent's many awards are exemplified in his magnificent sauces, and I found myself pulling my perfectly cooked shrimp across my plate to get all of the delicious — and peppery, Cajun-influenced sauce — onto each bite.
The second entrée is another of Chef Vincent's signature creations. The sautéed chicken and rack of lamb is served in a blue cheese sauce. I've mentioned before that I consider rack of lamb to be the true test of a chef. A blue cheese sauce on chicken was no surprise, but to have it enhance the experience of lamb turned out to be the taste sensation of the evening. Rack of lamb will never be the same for me without Chef Vincent's blue cheese sauce. It complemented the meat perfectly. A taste of creamed cabbage (a first for this writer) and a rosette of mashed potatoes enhanced the presentation. Having never cared for cabbage as a vegetable, this cabbage is a revelation. It is so delicious I plan to return in the guise of a vegetarian and order the cabbage as a main course. Yes, it's that good.
Orlando's Magical Dining Month
Orlando's Magical Dining Month, presented by Visit Orlando, showcases 60 top Orlando-area restaurants offering three-course prix-fixe dinners for $30 during the month of September. A complete list of participating restaurants, including RanGetsu, Chez Vincent, Lago, Luma on Park and Flemings Prime Steakhouse, is available at OrlandoMagicalDining.com
We all know it's important to save room for dessert in a fine French restaurant. Chef Vincent's crème brulee is probably the best in all of Central Florida. Achieving the perfect burnt sugar topping while maintaining the integrity of the egg custard is where culinary artistry happens. And for those who simply must have chocolate, the restaurant offers a chocolate and raspberry mousse with a magical mango sauce to exercise those dining taste buds after a perfect meal.
Chez Vincent is ideal for a romantic evening, and do not be surprised if Chef Vincent comes to your table to make sure that your evening has been all it can be. The wine list is as varied as one would hope a French restaurant to offer, with additional selections by the glass. Chef Vincent's singular dedication to quality and fine French cuisine is always a reason to celebrate, and during September's Magical Dining Month, the celebration is fun and affordable as well.