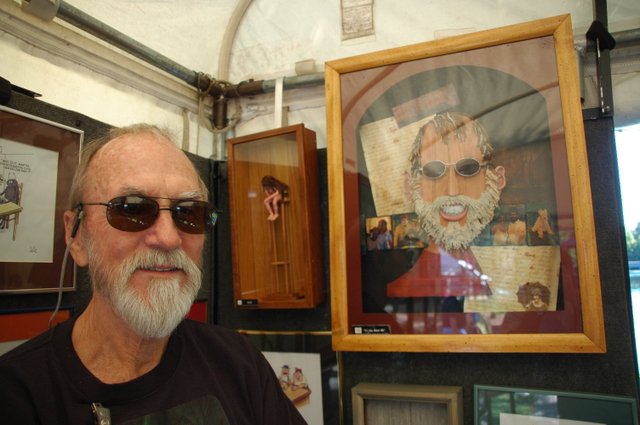 The arts can be interpreted and shaped in many different mediums. From steel, stone and wood to paint, music and film, a well-rounded festival of the arts should represent craftsmanship in all forms, says Cory Skeates, executive director of the Oviedo-Winter Springs Regional Chamber of Commerce.
Achieving this, he said, was a main goal in the planning of this year's Winter Springs Festival of the Arts being held at the Winter Springs Town Center Oct. 15-16, from 10 a.m. to 5 p.m., with a special Art as Film presentation by Sunspot Cinema on Friday, Oct. 14, at 7:30 p.m.
"There's going to be a little bit of everything," Skeates said. "We're really highlighting the fine artists that are traveling in from all over North America."
He said the festival, in its fourth year, is set to have more than 100 artists — painters, sculptors, musicians and photographers — from across the country on site displaying their work. The event will also feature food, wine and beer as well as special tents set up for children, students and senior citizens art.
Much of the talent being showcased at the festival is a smattering of local Central Floridians, from former newspaper editors to furniture makers.
Clear skies, full crowds on tap
Good weather and lots of people are what Winter Springs cartoonist Parry Dolle expects out of this year's festival.
Dolle will pack up his works, ranging from light-hearted comedic cartoons to three-dimensional assemblages of drawings, paper, clay and wire, to head just across town to participate in the show. "There's usually good quality work and I can't complain about the location," he said.
A traveling art festival participant for more than 40 years, Dolle said he gets the most satisfaction from attending shows such as the Winter Springs Festival of the Arts and seeing the humor people get from his work.
"I have fun, what can I tell you?" he said.
Functional art
Joe Ihns, also of Winter Springs, faces a common artistic challenge when it comes to his work: making people appreciate and discover the beauty in objects they see every day.
As a furniture designer, Ihns said it is his job to make art that is both functional and aesthetically pleasing. "I would say that I am trying to create functional pieces that allow function and artistic beauty at the same time, to show that one is not mutually exclusive from the other," he said.
For Ihns, like many artists, he said his craft is a constant evolution, and that he is constantly looking to keep his work current.
At the festival, Ihns will showcase his furniture along with several wood-based decorative wall pieces. He has participated in the Winter Springs Festival of the Arts since its first year and said he expects this year's quality to be no different from the high level he has seen displayed in previous years.
"I'm expecting beautiful weather and, as usual, a very intelligent clientele and an extremely high level of artistic insight from the other participants," Ihns said.
Photos worth a thousand words
Steve Vaughn of Winter Park, former executive editor of the Orlando Sentinel and a self-proclaimed "word guy," decided to leave the news for a different kind of print nearly 20 years ago.
Photography is now his medium of choice, he said. He makes a living capturing all the greatest landscape beauties that Florida and the Caribbean have to offer on film and transferring them to canvas.
"I take pictures of anywhere it's warm in January," he said. The product of this is a studio on Fairbanks Avenue lined wall to wall with his panoramic photographs of beaches, palm trees and everglades.
This will be his fourth year showing his work at the festival.
"This is what I do both as a living and a labor of love," he said.