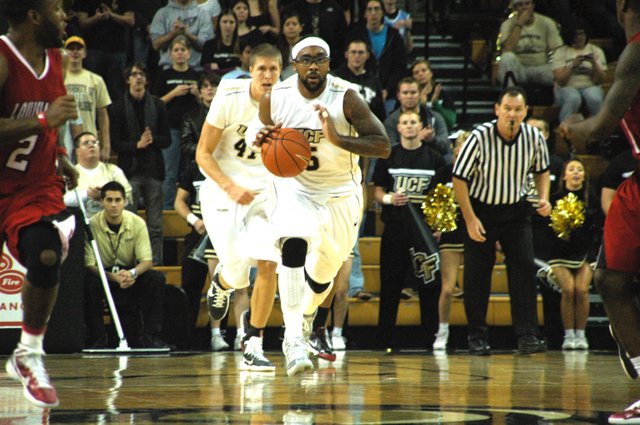 The UCF Knights did something last weekend they haven't done in nearly a year: won a football game and lost a men's basketball game. They may have lost to Harvard on Nov. 26, but the day before they notched a historic victory.
On Friday, Nov. 25, the football team (5-7, 3-5) did something they hadn't done the entire month of November, winning a game against UTEP (5-7, 2-6). They won convincingly with a 31-14 smashing that was dominated by UCF from the outset.
The Knights put 31 points on the board before the Miners managed their first score, bolstered by a rising future class of young stars who gave the team's seniors a redemptive final sendoff.
Freshmen Blake Bortles, J.J. Worton, Josh Reese and Rannell Hall helped the UCF offense to blast through UTEP's defense with ease. And those players could play key roles in next season's team, which will be in search of more offensive firepower after miscues hobbled the Knights this season.
But the star of the night was towering junior running back Latavius Murray, who just like last season has caught fire, ending the season on a career high with 233 yards on the ground plus two catches for 24 yards receiving. He gave the Knights three of their four touchdowns.
For the Knights, whose postseason hopes ended the previous week against East Carolina, it's rebuilding time, with a crop of promising freshmen with another year under their belt to hopefully sort some teething issues they faced in their first season.
Basketball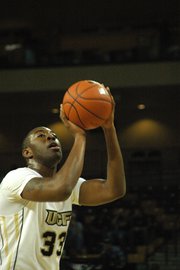 UCF's men's basketball team wasted no time establishing itself as a dominant force so far this season, with an exhibition win Nov. 5 followed by a 4-2 regular season start against tough competition from around the nation.
And the Knights may already have a high point to their early season, shocking No. 4 Connecticut 68-63 on Nov. 25 at the Battle 4 Atlantis in the Bahamas. That win avenged a 60-51 loss from last season and gave the Knights instant credibility for dethroning an undefeated reigning national champion that routinely ranks in the top 25. The Huskies (6-1) were ranked No. 4 in the nation at the time. Since their first loss, the Huskies have since descended to No. 8 in the Associated Press poll.
Helping the Knights to that comeback win was a leading duo of forward Keith Clanton and guard Marcus Jordan, who each scored 20 points, with Jordan picking up seven assists and seven rebounds. Becoming more of a presence after last season, Isaiah Sykes has filled his new starting role well, with 10 points against UConn.
The Knights still await a return from captain A.J. Rompza, who was ordered to repay $900 in improper benefits as the result of an NCAA investigation into recruitment violations that rocked the school after they were revealed at the start of November. He'll be able to return as early as Dec. 30 once he's satisfied NCAA requirements. That's just in time for the second day of the UCF Holiday Classic.
For the Knights this weekend, it's the beginning of a four-game homestand starting against Hartford at 5 p.m. Saturday, Dec. 3. As of Tuesday the Hawks were 0-6 on the season preparing to host Yale.