Nineteen Maitland Middle School students and their teacher will be front and center as their experiment rockets into space aboard Space Shuttle Endeavour.
In November, the eighth-grade students in Lynn Mederos' class won the opportunity to have their experiment — which studies the effect of microgravity on the ability of ethanol to kill E. coli — be a part of Endeavour's final mission.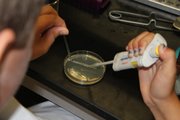 Although NASA scrubbed the April 29 liftoff, the students get to travel back to NASA's KARS Park to watch the launch, which could be as early as Tuesday, May 10.
But the postponed launch hasn't diminished the students' elation.
"They are over-the-moon, bouncing-off-the wall excited," Mederos said.
Maitland Middle and Glenridge Middle School were able to take part in the Student Spaceflight Experiments Program thanks to a $14,000 donation from the Community Foundation of Central Florida.
With the winning experiment, they have a chance to shape the future. If the study proves that ethanol can kill E. coli in microgravity, it may provide future astronauts with a waterless way to disinfect their hands and living quarters.
The students' work isn't done yet. They are conducting the control portion of the experiment on Earth, at the University of Central Florida with Dr. Bill Safranek and Dr. Laurence VonKalm. April 30 was the first of several trips to the UCF lab.
Abby O'Brien, part of the winning group, knows it's not every day that you get to be part of a NASA experiment.
"It's really amazing how kids our age get the opportunity to do things like this," she said. "It's a once-in-a-lifetime opportunity; even adults don't get this opportunity."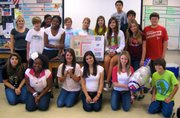 Abby said the students worked hard but their teacher, Mederos, worked just as hard behind the scenes. "She is an amazing teacher."
Lydia O'Brien, Abby's mother, said the experience will look great on the students' college resumes.
"Ms. Mederos is a great inspiration, and she's inspired Abby to go into the science field," Lydia O'Brien said, adding that her daughter has been accepted into the Engineering, Science and Technology (ESP) program at Edgewater High School.
"I'm very proud of her and all 19 kids," she said. "It's a great group."
The winning students, who call themselves "The Endeavour 19," are: Peter Barzola, Kaitlyn Confer, Garrett Gentle, Jordan Goslin, Lucy Greer, Madison Kerben, Jessica Lanier, Molly McGuigan, Cindy Menendez, Lauren Milgrim, Abby O'Brien, Jared Persons, Roche Pretorius, Adelia Heidrich, Cassidy Livingston, Thomas Sowards, Ayana St. Jean, Emily Vanderburg and Ny-Kera Williams.