Winter Park's two new city commissioners may have a rift to heal, one they called out during their campaigns. Both Steven Leary and Sarah Sprinkel said that they would be uniters in a city of divisive politics. What remains to be seen is whether they can deliver on that promise.
"I look forward to working with both of them," Mayor Ken Bradley said of the city's newest commissioners. That's a sentiment that both echoed.
"I think we'll work well together," Sprinkel said of her hopes for a strong rapport with her new Commission colleagues.
In their first vote together, they made their first tiptoes into Commission politics: a unanimous vote to approve the Commission agenda for March 14.
But otherwise, the week prior had been a whirlwind for the two freshman commissioners, who had been elected less than six days before — with not much time to adjust.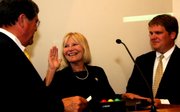 For Sprinkel, it's been a rapid learning process to get up to speed before her next meeting on March 28.
"I've still got a lot to learn," she said. "But there's no shortage of advice. That's what it's about. I've been seeking people out on issues because they know so much more than I do.
"Issues about things like Fairbanks, I've been reading up on. It's not overwhelming. I love to learn."
She said she wants to make wise decisions, rather than concentrate on pushing changes through.
"I don't want to come in and make a whole lot of changes," she said. "I want to be judicious about what we do."
In that vein, and as a consequence of the order of operations at Commission meetings, she let fellow freshman Commissioner Steven Leary make the first call to repeal two ordinances for dog park fees and a Commission pay raise.
"Because of the order, Steve got to bring things up first, and I got to second it, so it was easy for me," she said.
In her term, she said she hopes to unify the Commission, something she said she's seeing a lot of already.
"I have a goal to have us work together as a team, and I have a feeling we're going to do that," she said. "We have a lot more agreement now than people think we do."
Adjustment hasn't been tough, she said, but she's still getting used to the title.
"It's hard to get used to people calling you commissioner," she said. "I'm just Sarah."
For Leary, who said his wife told him "Good luck with the swearing in, and in the next three years, try not to get sworn at," his optimism for the city keeps growing.
"You go through a weekend like we've just had with the (Winter Park Sidewalk) Art Festival, and you just have a great feeling…the people who come to visit here, the people who come to shop here, it's just a great place to be," Leary said. "The positiveness that you hear — it's just great."
Though he already made requests for big changes to recent ordinances, he said he thinks his promise to reduce the Commission's role in micro-managing city staff will go over well.
"We've got great people working for the city," Leary said. "As far as the Commission goes, we've got problems to tackle, but none of these things are outside the ability of a group of smart positive people looking to fix it."