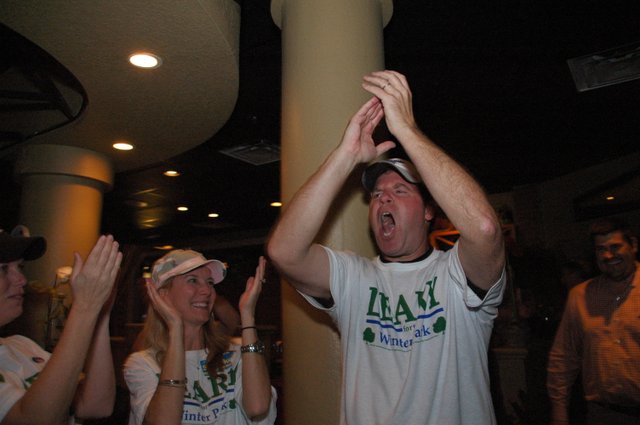 An earlier version of this article misstated what Amendment 1 would have done if passed. It would have created an every-other year election cycle for Winter Park but would not have aligned city elections with state and national ones.
Winter Park has two new city commissioners, Steven Leary and Sarah Sprinkel. The two had vied for the Commission's first two seats, culminating in campaign wins Tuesday night.
And a charter amendment failed 36 percent to 64 percent that would have created an every-other year election cycle, extending Commission terms from three to four years, and reducing the term limit for commissioners from four to three. The two changes would have effectively canceled out, keeping the maximum consecutive tenure in office at 12 years.
Leary, who won by a 63.4 percent to 36.6 percent margin, had battled rumors that he wanted to change the supermajority vote to facilitate business-zoning changes, which he vehemently denied. Leary had suggested cutting the recent City Commission salary increase and eliminating the dog park fee and registration program.
Standing in front of friends and supporters at Hot Olives restaurant, Leary thanked his volunteers.
"You inspired me every day," he said. "I worked my tail off because you worked your tail off every day."
Leary had promised to push to delegate more responsibility to city staff, rather than bog down the Commission with "micro-managing." His opponent, Scott Callahan, shared a similar sentiment.
"I honestly feel so great for the city," Leary said. "I think the city just exhaled. I think everything can kind of get back to normal … and get back to being a community."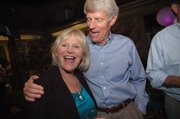 At her victory party at Palmano's Trattoria and Wine Bar, Sprinkel exchanged a hug every few seconds to a string of supporters.
"I'm absolutely exhilarated," Sprinkel said. "I'm happy for all of us."
Sprinkel had been in the race since the start of December, making her official kickoff in Central Park. In the ensuing three months, she had pushed a campaign on compromise and bringing the city back together.
Her opponent, attorney Bonnie Jackson, had promised to be an independent voice on the Commission.
Sprinkel won by 65 percent to 35 percent of 5,089 votes cast.
"I thought it could have been a 50 to 100 vote margin," Sprinkel said. "I didn't think it would be that much. I think it's a statement. People do know I care about this city, and I do."
At Leary's victory party, Winter Park Chamber of Commerce President Patrick Chapin said he was happy with the result of both campaigns.
"It's a positive direction for Winter Park," Chapin said, referring to the tenor of the victorious campaigns. "I think tonight was a strong indication that a clean campaign works."
Leary, who said his campaign staff had pushed him harder than he thought he could go, said he was happy to be finished and ready to move ahead.
"Tomorrow morning, I'm sleeping in, and I'm going to spend some time with my kids," he said.