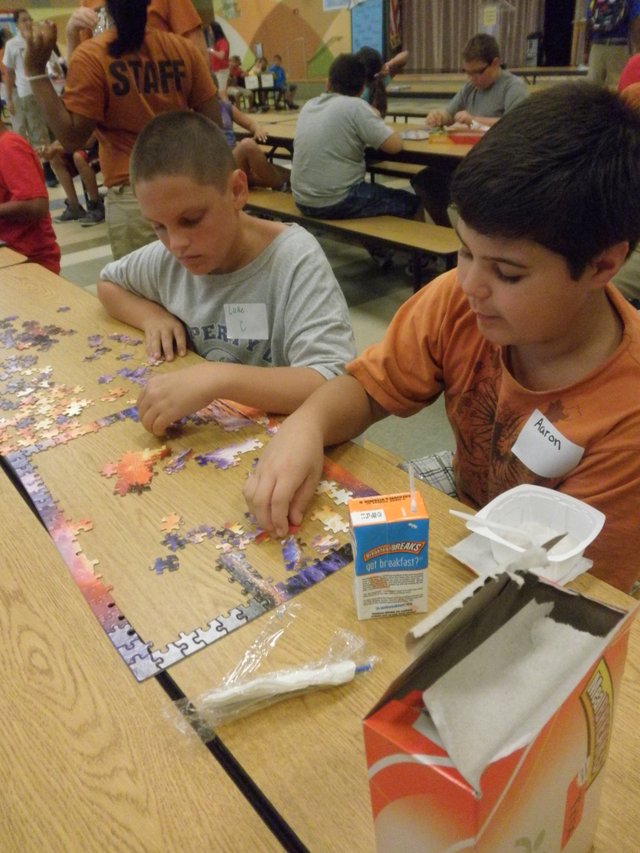 While many children teeter on the edge of their seats on the last day of school before summer break, daydreaming about the days of swimming, fun with friends and no homework, there are thousands in Orange County who dread it.
For the 3,000 homeless students in Central Florida, summers are far from their favorite part of the year. Fifth Third Bank has worked since April to give these children an option — the Summer of Dreams camp.
The camp, which is hosted at schools all over Orange County with programming by Orlando After-School All-Stars, is for all children. But with donations from private and corporate sponsors, there is funding for more than 1,200 of the area's homeless children to attend for free. Fifth Third is still working to gather enough money to give all 3,000 a chance at some summer fun, and more than 800 students have signed up. A donation of $133 can send one child to the 10-week camp.
"It's amazing how much need there is," said Barbara Lopez, host school Jackson Middle's SAFE coordinator.
Homelessness in Central Florida
Representatives at Fifth Third Bank, who were inspired by a "60 Minutes" segment focused on homelessness in Central Florida, were shocked at the number of homeless children here. It's a staggering number, and one that may be surprising to many locals.
Homeless, defined by the No Child Left Behind Act, means children without a fixed, regular, adequate nighttime residence. This includes children who live on the streets, in shelters, hotels or with other families due to loss of their own home. The last category makes up many students in Orange County.
"There are more than we know everywhere," said Christina Savino, homeless education liaison for Orange County Public Schools.
Central Florida has such a large homeless family population because of its abundance of service and hospitality industry jobs, Savino said. People come here for work, many have multiple jobs but only make minimum wage. That isn't enough to sustain a household, she said.
Fulfilling the summer need
School is a solution to part of the parents' financial worries. During the year, their children get free or reduced breakfast and lunch and a place to learn and be active all day. When summer hits, those two meals are now the parents' responsibility, and while they're at work, their children are left at home all day with nothing to do, often in dangerous neighborhoods.
"This is a year-round problem," said Tyler Chandler, program director for Orlando After-School All-Stars. "(This camp) fills that summer gap."
The kids will get breakfast, lunch and a snack at camp, along with lots of fun activities and field trips to all the major theme parks. They'll also have one hour each of math, reading and character development and life skills instruction. On Fridays, a backpack with food will be sent home for the weekend. At the end of the camp, they'll get school supplies to use for the year.
"It relieves a burden on the parents," Savino said.
Happy kids
And the children are so appreciative of the opportunity. Instead of "being bored", they understand they'll have a chance to be with friends, play sports and do regular kid stuff.
"We'll learn to appreciate the little things we have that others don't," said Neivette Maysonet, who is in the eighth grade at Jackson Middle and is a sponsored camper.
Chad Perry, who is a seventh-grade student at Jackson Middle and going for free, said this camp will motivate him to get better at all sorts of things, and he is excited to play basketball all summer.
Financial counseling available
Not only will the children have an opportunity to grow, but their parents will, too. Fifth Third Bank is offering free financial counseling. Advisors want to get the conversation started, allowing parents to ask any questions they might have about money and finances. They hope this information can help families work on moving from a temporary living situation to a permanent one, said Kim Praniewicz, senior vice president, affiliate marketing director for Fifth Third Bank.
Summer of Dreams camp hopes to be a stepping-stone to a better life for these families, especially the students. It's a place where ideas will be nurtured and plans for the future can be thought of and made, Praniewicz said. And that doesn't cost a thing.
"Dreams are free," she said.