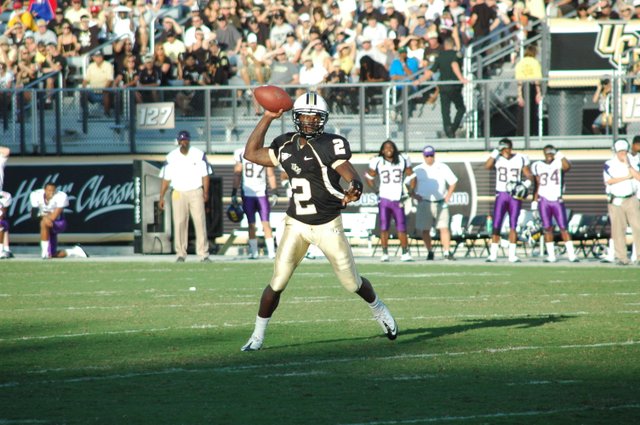 The Knights are storming toward the start of the season with some tough questions to answer and with some big expectations to fulfill after their first bowl victory over Georgia last season.
The Knights kick off their season at home against Charleston Southern at 7 p.m. Saturday, Sept. 3.
But it's already been a wild preseason in training. UCF football was thrown for a loop when backup quarterback and wide receiver Rob Calabrese snapped a ligament in his left knee for the second time in two seasons, possibly ending the 2011 season before it began.
Now a potential redshirt senior for the 2012 season, Calabrese will once again be stepping into his role calling plays from the sidelines for rising sophomore starting quarterback Jeff Godfrey, who proved a godsend last season.
As a freshman, Godfrey had stepped into a role rarely reserved for such an inexperienced player: starting quarterback. He quickly proved himself with a scrambling, option-player style that proved elusive to tackles. He also finally offered the ability to consistently gain yards through the air that the Knights had been looking for.
"I didn't expect to do that well," Godfrey said during UCF football media day on Aug. 5. He led the team to an 11-3 finish, including the benchmark 10-6 victory over Georgia, last season.
It was a brilliant, storming drive led by Godfrey in the final quarter of the Liberty Bowl that marched the Knights 65 yards downfield to the game-winning touchdown.
At a press conference during media day, Head Coach George O'Leary said he was happy with the steps Godfrey has taken since his first game last season.
"When you look at last season and look at the film, the two things I spoke with him about his poise in the pocket and his decision making — he's gotten that done," O'Leary said. "He understands protection better, understands coverage better. I think he works at the game. If he can play 10, 12, 15 percent better than last year, I think we're gonna be a very strong offense."
Young leader
Tight end Adam Nissley, who saw limited receptions last season but is expected to factor big in UCF's offense in 2011, said Godfrey learned quickly in his inaugural season.
"I thought it might take him longer to get used to the game," Nissley said. "The first game, he really surprised me."
Now even more weight may be on Godfrey's shoulders, as he's expected to emerge as a leader on the field at a young age. But O'Leary expressed confidence in his young quarterback at the Aug. 5 press conference.
"Quarterbacks either command respect or they don't command respect," O'Leary said. "If you don't have that there, there's a problem. He's not a big talker, it's his actions. I think his leadership is improved, but he's still only a sophomore."
Senior power
That focus on leadership and team unity carried over to O'Leary's assessment of his upperclassmen.
"I've never won unless I've had a senior class that leads and had good chemistry," O'Leary said. "I was looking for leadership, and I always look at the senior class on both sides of the ball. I think defensively it's still fairly young. But Darius Nall, Josh Linam and Kemal Ishmael have played a lot of downs for us. I think this group collectively is a good group. It's their football team, it's their locker room, and they've done a good job enforcing that on the young players.
"It's a good sign that there's a major separation between the upperclassmen and the freshmen," O'Leary said. "Four years ago, I couldn't say that."
UCF ended last season ranked No. 21 in the AP Top 25 poll. This season, after losing eight defensive starters, they're ranked No. 33 leading up to Week One.
O'Leary said that doesn't matter.
"I've never been a big believer in the Top 25," he said. "There are so many mistakes in there."
But O'Leary hinted that the Knights should be higher ranked come the end of the season.
"It's more important where we are in December," he said.