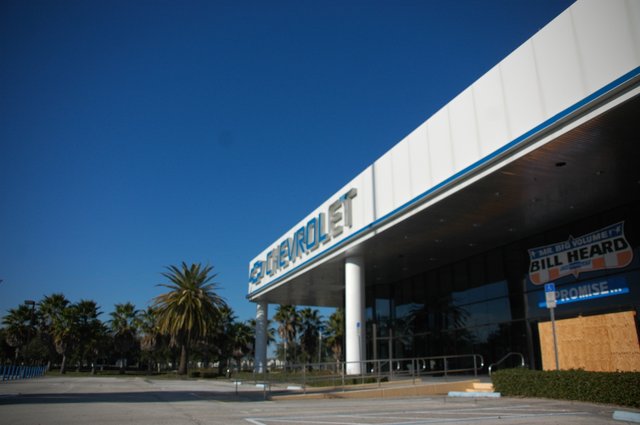 The sprawling former Bill Heard car dealership in Sanford may not stand vacant for long. Holler Automotive Group purchased the complex that's been motionless for two years.
The 26.8 acres of land at Interstate 4 and State Road 46 was purchased in mid-December for an undisclosed sum. The asking price last summer was $17 million.
Roger Holler III, vice president of Holler-Classic, said in a press release that "plans are to renovate and upgrade this premier commercial site".
Holler spokeswoman Lori Booker said that several of the buildings are in disrepair and renovations, demolition and expansions are all being considered at this time. Construction and renovation could be completed within a year.
Holler was mum on its plans for the site.
"It is possible that the development will include an upscale dealership," Booker said. "But it is still very early in the planning stages, however."
Even though the Hollers are not sure what exactly they will do with the property, they do expect the new location, which will target consumers throughout Seminole and Volusia counties, to make an impact to the Central Florida economy as they have since 1938.
Randy Parks, president of the Central Florida Auto Dealers Association, thinks that because the Hollers are a long-time community-based organization, they will bring life back to the area.
"It's a natural fit," he said.
Booker shared his sentiment.
"Industry observers will agree that the Hollers are trendsetters, not followers," Booker said. "This purchase confirms the company's optimism for the future of Central Florida and the automobile industry."
Dr. Randy Anderson, a professor at UCF who specializes in commercial real estate, thinks that the Holler purchase is a sign that the economy is improving.
"People like the Hollers, who have the extra capital, are able to buy properties at low prices so they can position their businesses well," he said.
The Hollers have the same optimism as Anderson, and although many establishments have fallen on hard times, the Winter Park-based auto group has continued to find ways to adapt to the current economy.
Since losing their Chevrolet contract following General Motors' bankruptcy filing in 2009, the Hollers turned to Plan B: expanding their used-car business plan, similar to that of CarMax, with a focus on maintenance and service stations.
Booker said the two Driver's Mart Used Car Superstores proved to be more profitable to operate than the former Chevrolet locations.
"In Roger Holler's words, 'Our Plan B became our Plan A,'" she said. "Both new stores are doing extremely well."
Since making the switch, their sales numbers have been consistently high, and they have created 15 new jobs. Booker said the concept is very popular and that they are still working on making competing with CarMax a reality.
After 72 years of business, the Hollers are no strangers to contributing to the community.
In March of 2010, the Hollers sold 25.4 acres not listed for sale on the 900 block of State Road 434 for $22.5 million to Seminole State College.
The dealerships that occupy the buildings off 434 — Classic Audi, Classic Chevrolet, Hummer of Orlando and Classic Driver's Mart — will close by January 2013 and re-open in new locations.
The Heard property, which is slightly larger, could house all of those dealerships.
Seminole State will use the land to launch phase 2 of development for the Altamonte Springs campus.
"The buildings were fairly new, and the property was growing in identity as a dealership location," Booker said. "Regardless, the Hollers want what is best for the community, and SSC desperately needed the parking and the buildings."