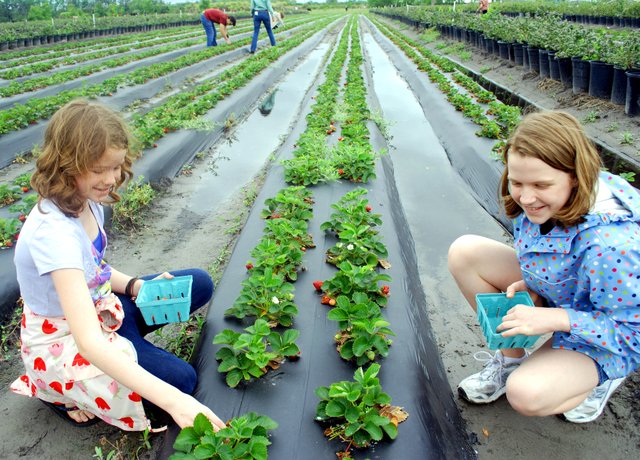 The agriculture industry in Seminole County is faced with many problems, from development pressures that make land worth more than the crops grown on it, to changing economic conditions that make some years unprofitable for the farmer. Add to that the regular nemesis of bugs, predators, and unpredictable weather, and you begin to understand why agriculture has declined over the years in this area.
But the rainy weather of Tuesday was not a problem for the farmers, ranchers and nurserymen who opened their properties to the more than 100 intrepid, umbrella holding attendees of the 2011 Seminole County Farm Tour.
"We sure do appreciate ya'll coming out in this terrible, terrible weather," said Matt Lollar, the county's commercial horticulture extension agent, to the assemblage gathered for lunch at the Yarborough Ranch. Lollar thanked the sponsors and the extension staff for all the hard work they had done to present the day's event and then turned the microphone over to the venerable ranch woman, Imogene Yarborough.
"We look at things differently in life, don't we," Yarborough said to Lollar and the crowd. "And, he is correct, because he's been out, putting signs out, opening gates, and stuff like the in this terrible weather. But, in agriculture, we thank God for what we got today!"
Increasing agricultural visibility
The annual farm tour returned this year after a two-year hiatus. Started in 2004, the goal of the self-guided tour is to raise awareness of a viable agriculture industry in Seminole County.
"We are trying to make agriculture visible in Seminole County," Lollar said, "because a lot of people think it is non-existent."
Like so much of Florida, Seminole's economy in the late 1800s and early 1900s was agrarian-based, with Oviedo and Sanford vying for the title of "Celery Capital of the World." Today, agriculture is a $465 million industry in the county, and the eleventh largest employer. But the face of agriculture has changed so that it is almost unrecognizable to the common citizen. Large cattle ranches still exist in the eastern portion of the county, but large citrus groves and row crops, such as celery, watercress, cabbage and onions, have all but disappeared from the area. The 2007 USDA Census of Agriculture in Florida showed 395 active farmers in Seminole County with 35,542 of 197,248 arable acres involved in agriculture. But according Lollar, "that is counting all farms including ornamental nursery and greenhouse operations."
Tuesday's tour reflected the current face of agriculture and included two nurseries – LaFleur Nurseries, in Sanford, and South Seminole Farm and Nursery, in Casselberry – as well as Meriwether Farms, a retail citrus grove in Sanford; C.O.D. Trees U-Pick Blackberries, in Geneva; Pappy's Patch U-Pick Strawberries, in Oviedo; and the Yarborough Ranch, a working cattle ranch in Geneva.
Despite the threat of severe thunderstorms, the tour began on schedule at LaFleur Nurseries, on west State Road 46, and wound east and south through the county, concluding at South Seminole Farm and Nursery, an informative program on invasive and noxious weeds at the Yarborough Ranch. At each stop, attendees were introduced to owners of the property and given insight as to what was involved in the operation of the property.
Cutting out the middleman
The third stop of the morning was at a u-pick blackberry farm on Snowhill Road in Geneva owned by Jack Campbell, and his partner, Chris Anderson, of C.O.D. Trees.
Campbell and Anderson have been in the business of growing trees for years. They own and operate more than 350 acres of tree farms – mostly woody ornamentals and palms – in the Black Hammock area. They recently started the u-pick blackberry farm, an operation similar to the well-known u-pick strawberry farm run by Tom Minter.
The blackberry farm operation should do well, according to Minter, who has operated Pappy's Patch in Black Hammock for eight years. The tour group visited Pappy's Patch after lunch.
Minter, a second generation Seminole County farmer, said u-pick operations are a viable alternative for supporting agriculture in Seminole County, but the choice of the crop is important in the success of the operation.
"When you have high value land, you have to have a high value crop," said Minter. He estimates that the property he leases for Pappy's Patch would be valued at $85,000 per acre if it could be developed. But, because it is inside the urban rural boundary, it is currently protected from development. "You've got to grow something that has some potential to make some money."
Campbell echoed that sentiment in his presentation. "It's kind of hard to find land nowadays and acreage to support agriculture that's not a million dollars," he said.
Minter said the reason he chose a u-pick operation is to "cut out the middleman."
"I don't think you can farm at the wholesale level," Minter said. "You have to farm so that you go right to the consumer."
First-timers
This was the first time on the tour for Winter Springs' residents Charlie and Bonnie Miller. They said they enjoyed the tour from start to finish. After picking strawberries at Pappy's Patch, they took advantage of the complimentary dusty miller plants provided by South Seminole Farm and Nursery, at the tour's last stop.
"It's something I've always wanted to do," said Bonnie of attending the tour, "and they haven't done it for a couple of years."
The couple said they both enjoy gardening and regularly visit South Seminole for plant material and educational programs. On their one-acre lot in Tuskawilla, the Millers have a vegetable garden, a butterfly garden, a lot of Florida native plants, and something they call their "hurricane" garden.
"We had a big oak tree go down, and the stump was bigger than my chainsaw," said Charlie. "A large part of the stump and the mound around it became the hurricane garden."