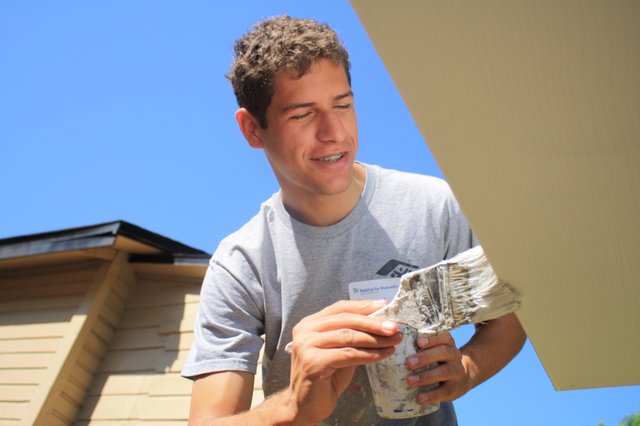 Most high school students spend their Saturdays playing "Call of Duty" or catching up on shows on their DVR. But not Daniel Schwindt.
Listen at the entrance to the Trinity Preparatory senior's bedroom and all you'll hear is silence. He's out building and fixing up houses for Habitat for Humanity or preparing the debate team for its next competition.
The Winter Springs native dedicates three hours almost every Saturday to Habitat in Winter Park and Maitland. Schwindt is also the captain of his school's debate team. Add a stellar academic record to his list of extracurricular activities and it's no wonder he's the recipient of a full ride to Wake Forest University — a scholarship worth more than $200,000.
Passion for volunteering
Schwindt said he has a deep passion for volunteering at Habitat.
"It's pretty crazy," Schwindt said through a smile. "If you get involved in it, you are working alongside the people who are getting the house."
Schwindt said his favorite thing to do while volunteering is working on the roof, even though it is kind of scary. "It's more thrilling than standing on the ground," he said.
Hal George, president of the Winter Park-Maitland Habitat affiliate, described Schwindt as a "quiet achiever who doesn't want a lot of fan fare."
"A lot of kids want to say, 'Hey look at me,' but Daniel is a little more reserved. He just gets here and works his butt off," he said. "Kids like Daniel who become leaders are invaluable."
George said Schwindt is a leader by example — he helps other students by doing the work with them rather than just standing back and instructing from a distance.
Mary Donohue, Schwindt's academic advisor at Trinity Prep, said he is an expert on site and they depend on him to help the newer kids.
"He is one of the best," she said. "He walks the walk."
Speaking engagements
After gaining interest in politics in his eighth-grade civics class and wanting to meet new people, Schwindt joined the forensics team in ninth grade. The team mixes debate and speech, and he has worked his way up to debate captain.
Schwindt also excels in extemporaneous speaking, placing high in competitions across the nation in the last two years — fourth at Yale, fourth at Bluekey and third at the Florida Forensics League State Championships, and in the quarterfinals at Catholic Forensics League Nationals.
For the extemporaneous speaking competition, competitors are given 30 minutes to prepare a seven-minute speech to convince a panel of judges on their viewpoint on a question related to current events.
Schwindt spends about eight hours a week reading articles and preparing for his speeches, something his parents are extremely proud of.
"We couldn't be more proud," father Christian Schwindt said. "We are thrilled he is such a hard worker."
Growing up
Schwindt's father thinks his hard work developed from a very young age. As a child, his family did not have video games, and Schwindt turned to books to occupy his time — particularly history books. By the first grade, he knew all of the presidents names and could tell you them in reverse.
Through hard work and effective time management, Schwindt has helped Trinity Prep maintain a nationally ranked forensics team.
"They are a top-notch group, and he mentors the younger kids who are just joining forensics," Donohue said.
Schwindt's success in the classroom and extracurricular activities helped him earn the Guy T. Carswell Scholarship, a prestigious award given to six students each year who are typically in the top one percent of their class.
After receiving the phone call, Schwindt's family cheered.
"It was very intense. It was like a wave of joy," he said.
He's still a kid
Despite being so busy with debate and Habitat, Schwindt still has an active social life.
Schwindt says he does "pretty normal teenage stuff." He spent his spring break with his friends, hanging out at the beach and going boating and water tubing with his friends.
Donohue says he is a jokester and that is evident with Schwindt as you will typically see a smile on his face.