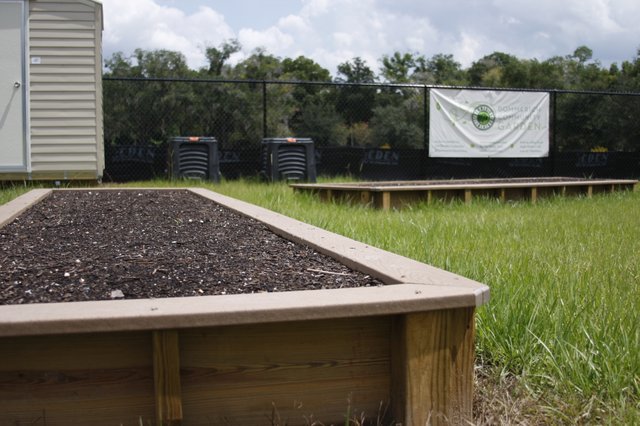 Six-year-old Zachary Asarnow is one of the many students who helped build their school's new community garden.
"I liked getting my hands dirty!" the Dommerich Elementary first-grader said. "I liked helping fill all the planters with lots of dirt."
The garden, planned by the school's garden committee, was funded through a grant from the Winter Park Health Foundation and took six weeks to construct. It features seven 4-by-16 inch beds or planters.
And more than just dirt will be filling those beds.
Lisa Rotenberger, kindergarten teacher and member of The Garden Committee at Dommerich Elementary, said each grade level will have their own bed to plant in. There will also be a bed for Maitland Middle School's Garden Club.
"Each grade submitted a plan for what they would like to grow and how it will fit into their curriculum," she said.
The garden will connect classroom teachings with tangible first-hand experience: fifth-graders will be planting various flowers to study their biology, fourth-graders will plant herbs and spices as they learn about Native Americans in history, and kindergarteners will be planting a "pizza garden," filled with everything needed to make the perfect pizza sauce.
"I think this will change how the kids perceive eating vegetables, because they are getting to take part in growing them," Rotenberger said.
Rotenberger's son David, 15, a sophomore at Winter Park High School, decided to tackle the garden for his Eagle Scout Project. He organized more than 50 volunteers and oversaw all the prep work, including ordering all of the materials.
Jack Wolfe, 10, was one of the 50 volunteers that helped during the six weeks just before school began. "I'm really excited to learn more about flowers and about getting to help plant them and see them grow," he said.
And what these kids learn won't wash off as easily as the dirt on their hands; the process starts in the lunchroom where compost bins are soon to be set in place, right next to the recycling bins.
Rotenberger, along with the rest of the garden committee, will coordinate plant and seed orders, planting days and composting schedules in the lunchroom.
"We're hoping to have a huge planting day when the seeds come in, and possibly having our own version of a farmer's market when everything is harvested so the kids in each grade can see what their peers have accomplished."