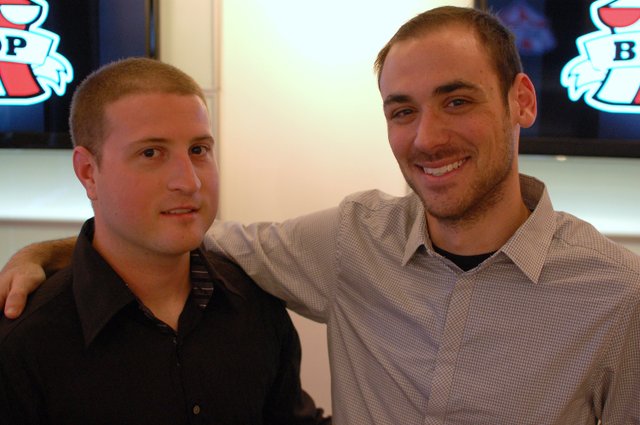 It was two weeks before her friend's bachelorette party. Rena Tchekmeian had scoured the Internet in hopes of finding a place that could print 10 shirts before the trip.
The design was specific: three men holding up wedding rings with the man in the middle holding up the largest ring, saying "Megan picked the right one."
Every screen-printing company she contacted was through e-mail. There was no face-to-face communication or telephone communication.
"I would e-mail them, and then I would get an e-mail back, and it wasn't exactly what we wanted," Rena said. "They couldn't do a certain color, or they couldn't do the exact sizes we needed."
Three days before the bachelorette trip to downtown Orlando, Rena called her brother, Alex Tchekmeian, and he was able to make the shirts.
Five years later, Alex, president of Winter Park-based AKT Enterprises, a branding and marketing company, is materializing the need for hassle free, face-to-face communication into something tangible with the August opening of Big Top, located at 7612 University Gardens Dr., just outside Winter Park.
This brick and mortar store offers all the same web and print media services AKT offers — identity development, web-based applications, web hosting and maintenance, online stores and fulfillment — but it also provides screen-printing services for garments to the regular consumer in a face-to-face environment.
"My sister always talks about how her and her friends who are going on these trips and how they want 10 shirts for the girls to wear," Alex said. "My vision is to have my sister and her friends walk into the store, design their own shirt, and within an hour, walk out with the printed shirts ."
Alex said while the Internet sales option still exists, AKT wants to move away from the online experience with this retail store and become a business partner with the consumer.
"The new side of Big Top is making AKT more accessible to regular consumers, but we're still offering the same services to businesses, companies, organizations, musicians — all the same stuff that's gotten us to where we are now," said Jared Mendelewicz, vice president of AKT Enterprises.
The target consumer for Big Top isn't only small retailers. It also includes businesses, clubs and organizations that need help with promotional services.
"We are targeting the pizza shop opening up next door who wants business cards, logos, and designs; we are targeting the individuals; we are targeting the parents and we are targeting the moms who want monogrammed initials on all their towels," Alex said.
Mendelewicz said other companies provide the same amenities they provide, but a person would have to go to four or five different stores to get what they can do under one roof.
The logo for Big Top consists of a circus tent with the words "Big Top" laced in ribbon.
Mendelewicz said the name for Big Top came up randomly in conversation, and from a marketing standpoint, Mendelewicz and Alex wanted it to be over the top but still professional, which is where the circus theme came into play.
"The closest thing I can approximate Big Top to is an Apple store," said Will Chung, general manager for AKT Enterprises.
The retail space of Big Top consists of modern décor where form follows function. The store oozes red, white and black with plush red swivel chairs, circular white and silver corner tables, black tables, and flat screen televisions.
Big Top is the flagship store for AKT Enterprises, and Mendelewicz and Alex already have plans to open up additional locations in the future. Alex said he would like to have one additional Big Top developed or in the works by the end of 2010 with five or six additional stores either opened or in the works by the end of 2011.
Twenty-four-year-old Tchekmekian, who started the business when he was 17, wants to expand with locations closer to the University of Central Florida or Sanford.
To learn more about AKT Enterprises, visit their website at www.aktenterprises.com.