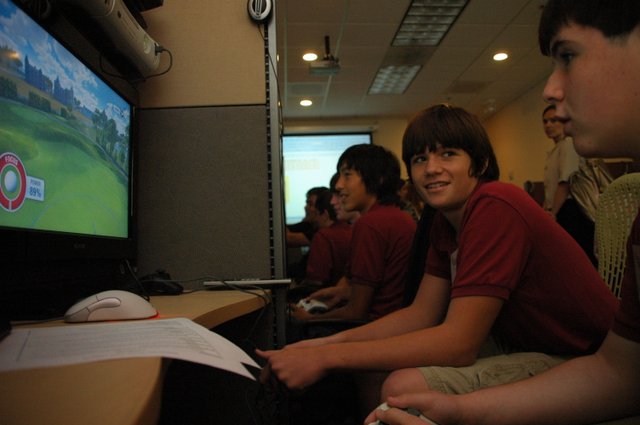 Two middle-school age boys sat hunched together, eyes fixated on the computer screen mid-morning on Friday.
One worked to design his own personalized Tiger Woods persona in "Tiger Woods PGA Tour 2011", while the other reached to his left and clicked diligently through a spreadsheet on a neighboring screen. Ranking the game in terms of effectiveness, overall experience and innovation with tallies in the spreadsheet, the boys continued through the game.
This is more than just an average summer day spent video gaming. Not only are the boys surrounded by 18 of their peers, all paired off working on the same activity around the room, they are sitting in the very building that game was created — Electronic Arts (EA) Tiburon Studios in Maitland.
These kids are doing more than just gaming; they are learning what it's like to work as electronic artists.
Funded by Workforce Central Florida, in partnership with EA, Lockheed Martin and NASA, and directed by doctorate students in College of Education at University of Central Florida, these 20 students from the Villages Charter School are the fifth and final group of students to attend this year's STEM (science, technology, engineering and math) camp.
"The purpose of the STEM camps is to take kids from diverse populations and expose them to STEM careers," UCF camp coordinator Mercedes Sopillo said, "because sadly enough in our country we don't have enough people studying STEM careers to fulfill the needs that we're going to have in the future."

Jacqueline Rodriguez, also one of the camp coordinators, said that 50 percent of all those studying for a doctorate in STEM-related fields in the U.S. are foreign students. This means 50 percent of the STEM human capital and knowledge is being exported to other nations.
"So many STEM careers are being exported that it's plausible that the arena is wearing out, STEM in general is graying out," she said.
The goal of the camps is to, in the future, shift that number and give participating students a look into the "cool" and "fun" side of these "hard" subjects. It also allows students a glimpse into what their futures can hold if they continue to study STEM fields, and gives the corporate sponsors of the camp a chance to inspire the potential next generation leaders of their companies.
"We need talent; it's our lifeblood here," EA Tiburon Chief Operating Officer Daryl Holt said. "For us to be creative and remain innovative, we're going to have to invest in that talent and grow that talent."
For EA, as well as the other corporate camp sponsors, NASA and Lockheed Martin, showing STEM campers how they operate is the perfect way to do just that.
The day before the students toured EA, they spent the day at the UCF Teaching Academy. The campers spent the day learning the value of STEM education, while participating in hands-on activities that challenged both their drive and imagination.
Campers did everything from perform step-by-step virtual brain surgery, build bridges out of Popsicle sticks that would hold up to 100 pounds in weight, and — what UCF camp director Jacqueline Rodriguez said was the biggest hit among the students — oversee a virtual classroom full of avatar students in the Teaching Academy's TeachMe lab.
Rodriguez explained that once the students put on headsets, they could communicate with the avatars in real-time.
"The avatars are in middle school and our campers are in middle school, so they interact with them, and because it's real time the avatars talk about what they're wearing, the things that are happening in the field," she said. "They even had conversations about basketball and LeBron James moving to Miami. It's all immediate."
Each of the five two-day sessions began with the day on-campus at UCF, and while this session experienced all EA has to offer, three of the previous groups instead went to Lockheed Martin where they participated in military vehicle simulations, and another group simulated lift-off into space at the NASA Kennedy Space Center.
Each group may have been exposed to different facets of STEM during their camp sessions, Rodriguez said, but what matters most was that they were exposed at all. She hopes that with programs such as these STEM camps across the country, the number of students pursuing STEM careers will increase.
"I'm not sure how many lives we changed, or that we're going to change your career direction, but it's possible," she said. "Who knows what happens in six years, but at least those kids were now exposed and they know a little bit more, and appreciate a little bit more and they have a greater value for STEM careers."