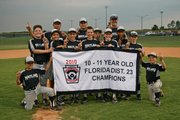 Community Bulletin
Maitland Little League's 10/11-year-old all-stars clinched the Florida Little League District 23 title after winning the championship game 8-2 against Lake Mary's squad Friday, July 9. With its win, Maitland advances to the Section 5 tournament, which will be held at Downey Park in Union Park, July 16-18.
Enzian is now accepting donations for the scholarship fund for KidFest Young Filmmakers' Summer Camp. The camp, held July 26 through Aug. 1, enables 30 children entering grades 5-8 to experience, produce and study the art of filmmaking. Visit https://enzian.wufoo.com/forms/kidfest-2010-donation-form/ to donate.
The city of Winter Park celebrated the completion of Phase I renovations to Central Park that includes the following new and improved features: decorative light posts, electrical system, more water-efficient irrigation system, sod, landscaping and wider sidewalks. These renovations were made in accordance with the Central Park Master Plan, accepted by the City Commission in 2002.
Ruth's Chris Steak House has launched a new branded application for the iPhone. The application provides Ruth's Chris guests with a convenient, user-friendly way to access information, select a "home" location, view the menu, make reservations and leverage GPS technology to find nearby restaurant locations. Visit www.RuthsChris.com or call 1-800-544-0808.
Maitland resident Michael A. LoSasso made the Spring 2010 Dean's List for the College of Arts and Sciences at Seton Hall University.
Crave Orlando's featured partner for July is Shepherd's Hope, which provides free health care to the uninsured in Central Florida. When guests visit Crave this month, and mention their support of Shepherd's Hope to their server, 5 percent of their pre-tax bill will be donated directly to the organization.
Orange County Property Appraiser Bill Donegan announced the integration of Google's new website translation application for the Property Appraiser's website www.ocpafl.org. "…my website can be instantly translated into one of 57 languages," Donegan said. Simply select the "New Website" pop-up box on the homepage www.ocpafl.org then select "Choose Language" at the top left side of the page.
The "J Ball: The Birthday Party" was held on May 23 at Rosen Shingle Creek hotel in Orlando in celebration of the 36th birthday of the Roth JCC in Maitland and the first birthday of the JCC's Jack & Lee Rosen Southwest Orlando Campus. The event raised nearly $150,000 for JCC programs, services and scholarships.
Michael Hawkins, a resident of Winter Park, was among the students from Florida Institute of Technology in Melbourne who were named to the Dean's List for the spring semester.
Barnie's Coffee & Tea Company has partnered with Page15 for the second consecutive year to host a book drive. During the month of August, Barnie's will give patrons a free cup of coffee in exchange for the donation of a new or gently used children's book. Participating locations include: Park Avenue, Baldwin Park, Waterford Lakes, Avalon Park, Altamonte Mall and Phillips Crossing.
Central Florida resident and University of Phoenix Alumna Lucille O'Neal, mother of NBA Superstar Shaquille O'Neal, recently partnered with University of Phoenix's Central Florida campus to make a $2,000 donation to the Universal Orlando Foundation Branch of the Boys & Girls Clubs of Central Florida.
The Florida Department of Transportation is launching a new commuter assistance program called reThink in Orange, Osceola, Seminole, Marion, Lake, Brevard, Flagler, Sumter and Volusia counties. reThink is a free service designed to connect area commuters who are interested in ridesharing and alternative modes of transportation. Visit reThinkYourCommute.com.
Business Briefs
Valencia Community College mathematics professor Julie M. Phelps was awarded the Virginia B. Smith Innovative Leadership Award, presented annually by the National Center for Public Policy and Higher Education, and the Council for Adult and Experiential Learning.
Mitchell's Fish Market marked the June 14 grand opening of its new location in Winter Park with a $15,000 donation to Habitat for Humanity Winter Park/Maitland.
Cuhaci & Peterson Architects LLC, based in Orlando's Baldwin Park, was recently awarded a contract to design renovations for a Winn-Dixie Supermarket in Boca Raton.
Orlando-based real estate associate Joey Blakley, formerly of the Orlando office of Marcus & Millichap, negotiated the sale of a 10,698-square-foot investment office building located at 795 Primera Blvd. in Lake Mary.
Fertile Dreams announced its First Annual Golf Tournament, presented by FORE Charities, raised $6,000 for the non-profit organization. For additional information, visit www.FertileDreams.org.
Super Lawyers Magazine recognizes Merrell Bailey, managing partner of Bailey Zobel Pilcher PLC, as one of the "Super Lawyers & Rising Stars" in the June edition.
University Center, a landmark joint-use facility designed by C.T. Hsu + Associates and shared by Valencia Community College and the University of Central Florida, has earned a LEED Gold designation from the U.S. Green Building Council.
The Francetic & Heistand Team, established at the start of 2009, closed out the year by chalking up $28.2 million in property sales to rank among the top 10 Realtors in Central Florida, according to the Orlando Regional Realtor Association.
Mercantile Capital Corp. reports the dollar volume of commercial loans it closed in June was up more than 284 percent over the same period last year.
Following its recent Parade of Homes success, Orlando home builder Musgrave Building & Restorations Inc. was recognized as one of the top custom builders in Central Florida by the Orlando Business Journal.