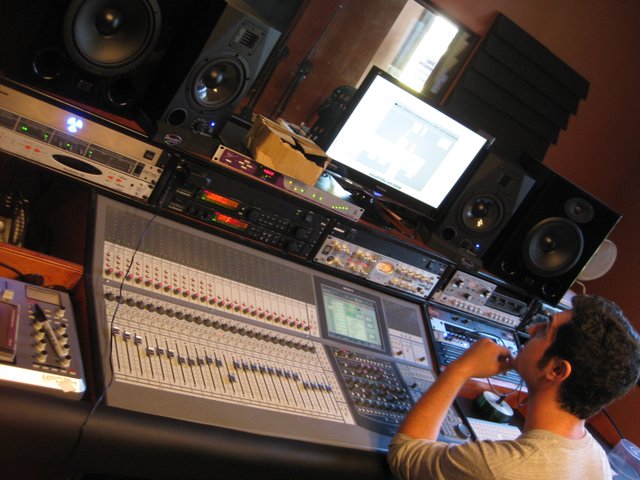 Peering through the thick glass windows of the Music Lab in the Winter Park Village, passersby are likely to see Alex Assoian conducting a silent symphony.
He skillfully maneuvers controls on the music console in front of him, only removing his hands to mimic what looks like the occasional air guitar riff or dramatic invisible-drum set solo.
Unless you're in the room with him, you won't hear a thing — and that's exactly the point, said Jeff Musgrave of Musgrave Building & Restorations, who worked to renovate the former office space.
The Music Lab, which opened Oct. 1, is a state-of-the-art recording studio nestled unassumingly — in both appearance and sound — next to Guitar Center and the Cheesecake Factory.
Ground-breaking
In many ways, the Music Lab is the first of its kind.
"We're doing something here no one has done before," said Assoian, co-owner. "We're trying to build the music scene in Orlando; to make a central place where musicians can come to network."
It is the first non-retail business to open in the Winter Park Village; the first business venture for the 20-something owners Assoian and Andrew Hautzenroeder; and the first music-oriented project for the Musgrave company, which is known for high-end home renovations and remodels.
"It was definitely one of the most entertaining jobs we've ever done," Musgrave said.
The renovations of the two lesson rooms, rehearsal space and recording studio each had to be done with acoustics in mind, using a process called sound transmission class or STC.
"We've been able to use it now on a lot of theater rooms that we do for other people, and it really helped us in some other aspects of our building company," Musgrave said.
Dream materializes
The total renovation process took about seven weeks. The planning process, between Assoian and Hautzenroeder, however, began in February as a "funny joke" and pipe dream between the then co-workers at Guitar Center.
After what Assoian describes as a "crazy roller coaster of an experience," their dream musical-recording haven is now a reality.
"The first thing on our to-do list once we got the keys was literally 'stare at walls,'" Assoian said. "We had to let it all sink in, but I still don't think it has."
The Music Lab is now open and fully functioning, offering what Assoian refers to as "a one stop shop for musicians." It offers more than its in-house music lessons and recording and rehearsal space — the Music Lab can hook musicians up with everything from photographers and merchandisers to web and graphic designers and all at the most affordable price possible, Assoian said.
"The funny thing about this whole business is musicians are broke and recording and equipment can be really expensive," he said. "Someone has got to be offering these services affordably."
'Genre-less'
Affordability, accessibility and convenience were key elements in Assoian and Hautzenroeder's business plan, which played a main role in why they chose to open in this commercial space.
"Every musician knows where Guitar Center is, so everyone knows where we are," Assoian said.
Since opening, he said, he's had everyone from parents looking for lessons for their kids to aspiring hip-hop artists come in to see what the Music Lab is all about. No matter what kind of music they're into, or what skill level they can play, Assoian says the Music Lab is open for all.
"Genre-less" is his word of choice.
"The commercial space is essential because music is for everybody," he said. "Music is too huge and too awesome to not have everyone be doing it. … Here you don't need to be a crazy rock star to come make a professional recording."
Next time you walk by and see Assoian rocking out in seeming-silence, he encourages everyone — even if they have no musical experience — to come in and check out the Lab for themselves and hear the muted music from the inside.
"Some people say they're not musical, or they don't have rhythm," he said. "I say 'do you have a heartbeat?' That's all you need."
Sweet sounds
The Music Lab is located at 520 N. Orlando Ave. Ste. 140 in the Winter Park Village.
For information, visit www.tmlorlando.com, call 407-622-7508 or stop in.