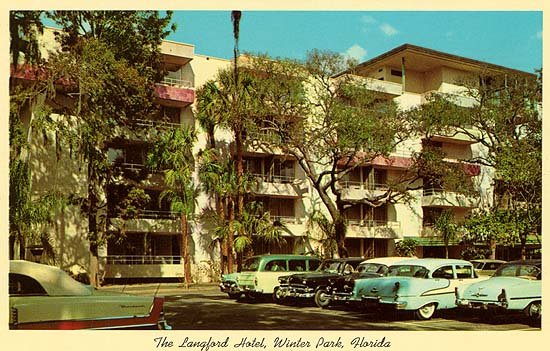 Check into a hotel; help your child pay for college. Never before were the two synonymous.
Thanks to a recent endowment of $12.5 million from the Harold Alfond Foundation, Rollins College is able to move forward with constructing an inn where the net proceeds will funnel into the Alfond scholarship program, which is estimated to fund 10 students' tuition, room and board — totaling $49,400 — per class.
"Most students attending Rollins today get some form of financial aid," said Jim Gerhardt, vice president for institutional advancement at Rollins. "Our ability to meet those financial needs of those students makes us all the more competitive in being able to attract the most promising students."
Within the next two months, Rollins will hire an architect and developer and plans to have the Alfond Inn complete by spring 2013. The inn will have 110 guest rooms with rates around $150 a night.
There will be about 10,000 square feet of meeting space for the college's sports programs and academic workshops and for the community for events such as wedding receptions. There will also be space to add more rooms if the need arises.
Jeffrey Eisenbarth, vice president for Business and Finance and treasurer, said the inn's design will blend into the open-air, Mediterranean style found on campus and throughout Winter Park.
In 2008, a board of trustees meeting concluded that building a hotel near campus was a goal that would have the biggest impact on the college. Eisenbarth said they are constantly turning down national companies who approach them for conferences and visiting families looking for a place to stay because they don't have the space.
When 3.4 acres of land on Interlachen and New England avenues — the location of the since-demolished Langford Hotel — became available about a year ago, Rollins purchased it.
"Almost every other top university in the country has a facility near campus for visitors, and Rollins has needed this since the Langford Hotel," Rollins President Lewis Duncan said. "[Our campus] has an edge in the sense that the Winter Park community and Rollins sell themselves once people are here, but bringing people here has been the challenge."
Already 70% 'booked'
An independent marketing assessment found that Rollins can already provide about 70 percent of the hotel's occupancy rate, based on the number of visitors that the college attracts. Lewis said more than half of Rollins students come from out of state.
"It is a magnificent gift in the sense that it continues to keep giving. We're not doing this for quick profit; we've been here 125 years and expect to be here another 125 years, so it's a long-term investment in the college and the community. We're going to be doing it first-class," he said.

The original plan was for a developer to build and own the hotel but the Alfond donation — the largest in the college's history — made it possible to recycle those funds back into the college's most important asset: its student body. Now the Alfond will become the premiere scholarship program and financial aid at Rollins, with funds from the inn promised to it for 25 years or until it reaches $50 million.
"We anticipate that as that grows, we will be able to increase the financial aid that's offered to students. That's why we wanted it structured this way and why Alfond was especially excited about this gift, because it would provide that kind of payback to the community. That's what's novel about this: Everybody staying at the inn, those benefits flow right to supporting those students," Gerhardt said.