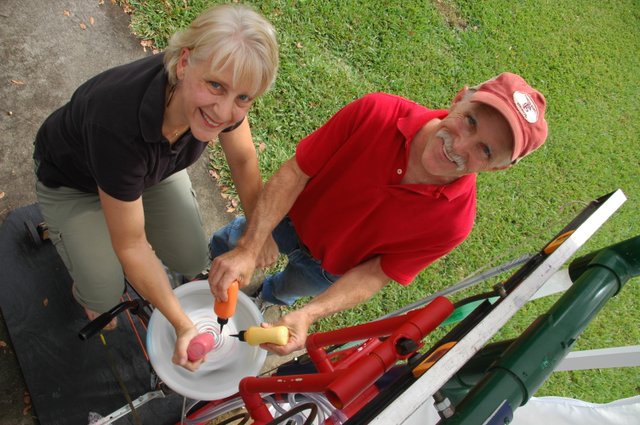 Joe and Sandy Donoughe have taken their unusual bicycle-powered cookie maker and turned it into a surprisingly growing business. As children spin the pedals of their wildly colored contraption, a square cookie spins, colorful icing rains down, and a custom-made dessert pops out in its own decorative plastic frame.
Less than a year ago, cookies and art came together inside the garage of part-time inventor Joe, and they're already a hit at parties and art shows across Central Florida.
"I liked spin art when I was a kid, and I just came up with the thought of 'Geez what would make it better?'" Joe said. "And making it edible was the first thing that came to mind."
Although it's not a typical way of making art, this edible artwork is created by pedaling a small stationary bicycle, as the square cookie spins atop a homemade tray in front of the handlebars while pink bubbles ooze from the tubes connected to the bike above, eventually leaving the cookie tie-dyed in an array of multiple colors.
The Incredible Edible Spinart Cookie is a fairly new concept to the Lake Mary couple, but one that is bringing smiles to many children as they experience more than just the joy of making art, but the fun and laughter of learning that goes along with it.
"We really have a lot of fun doing it," Sandy said. "It's all about spending time with kids and having something for kids to do at art shows… because this is something they can actually do and learn at the same time. We teach them about the vacuum-forming process and what's happening when they use the machine to make their art tray."
Kids don't just make a cookie; they find out how the process works — all part of Joe's collection of inventions that make a visual performance out of cookie making.
"The idea came to be a couple of years ago, and I kind of just laughed it off at that time," he said. "But it never really left my thoughts."
So Joe eventually decided to pursue the idea that had lingered on his mind for so long.
"We found out when you do something like this, it's really not that easy, because there's no rules, and you just keep trying things, and not everything works out the way you think it's going to work out," he said. "I've made a mess in the kitchen many nights, and there's been lots of sacrificial kitchen items."
The spin art cookie has since moved up to its own self-sufficient stand now, complete with a propane tank that heats the cookies and a sideshow air-compressor machine that fills colored balloons with sand that turns them into instant poseable toys.
The Incredible Edible Spinart Cookie recently displayed its stand at Oviedo's Great Day in the Country, where about 100 children delighted in the hands-on experience of making their own edible art.
"They (the children) put the cookie in here, they hook the locks, they flip it over on the heat… they frost their cookie — they do it all," Sandy said. "We just give them direction."
The spin art cookie has also found its way to children's parties.
When Megan Morris decided to have a Halloween party for her three kids, and 200 of their closest friends, she knew right away she wanted to have the Spinart Cookie.
"They are amazing; nobody had ever seen anything like that before; it's very unique and reasonable," Morris said. "It's what everyone was talking about; they were such a positive addition to the party."
She said of all the activities at her party, spin art was the favorite.
"Kids of all ages loved it," Morris said. "It was the highlight of the day."
Learn more
The Incredible Edible Spinart Cookie currently makes appearances at the Lake Mary Farmer's Market on Saturdays.
For more information, contact Sandy and Joe Donoughe at
Donoughes@yahoo.com