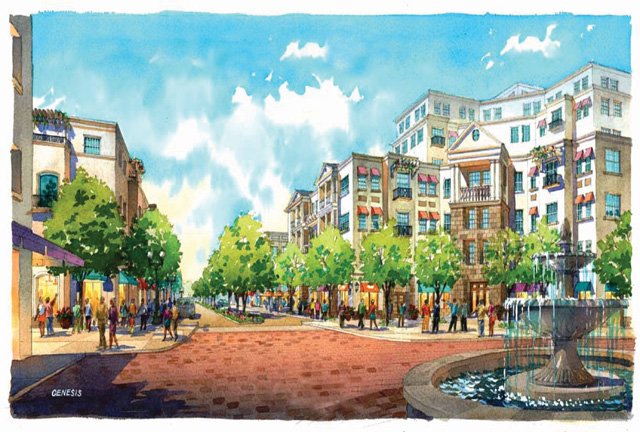 In a split vote Nov. 22, Maitland City Council directed the city attorney to draft a letter that declares the Town Center developer in default.
But that vote didn't start the 30-day countdown to terminating the development agreement. City Council will review the default letter at its Dec. 13 meeting and then vote whether or not to start the clock.
The city must give developer Maitland Downtown Property Owner LLC 30 days to cure defaults before it can terminate the agreement. If Council moves forward on Dec. 13, it could officially terminate the document in mid-January.
Mayor Doug Kinson made the motion that passed 3-2.
"That provides for us a plan that allows us to keep things moving forward," Kinson said, "and it allows the financing partner to have time to come to table, potentially on the 13th, to show proof of funds."
Councilors Bev Reponen and Phil Bonus wanted the city to move forward with default immediately.
"This was decision night," Reponen said, "and the decision wasn't to put off the decision. … Citizens always come up to me and say, give us a downtown. Nobody says give [Reese] more time."
Investor revealed
That financing partner Kinson refers to is Harrell Hospitality Group of Dallas — the Texas investors who until Monday, were unnamed by City Council.
In July, developer Bob Reese submitted a bankruptcy plan that included a letter of intent from Harrell. The letter stated that the group would provide $5 million in financing or capital in order to assemble the property for the two-block $400 million mixed-use Maitland Town Center project.
Harrell is in the process of taking over the $8.3 million mortgage on the former Winn-Dixie and Royal Plaza parcels from Mercantile Bank in order to settle a foreclosure suit that forced Reese into Ch. 11 bankruptcy protection in March.
First impressions
Councilman Howard Schieferdecker, who becomes mayor on Jan. 4, met with Reese three times recently, the third of which included Bruce Davidson, a business development manager with Harrell Hospitality Group.
"[Davidson] knew little about what was going on except that the land had to close," Schieferdecker said. "That was a big concern to me.
"But I was also impressed with the developer. He was honest and straightforward. He said he had earmarked $400 million for this project."
Schieferdecker said that Davidson wants to talk to the city this week as a joint venture partner. "He wants to come back and start with the city from scratch. That was encouraging to me. … He is coming back to meet with the city and start the process of getting this project under way."
Maitland resident and builder Renee Stein-Charlan also attended the meeting with Davidson. "He said that he believes in Maitland and the opportunity to begin a model that they could build throughout the country," she said. The company is also dedicated to green design.
She said she was told that the group, which represents celebrities, athletes and other people "with significant dollars", has invested $1 billion so far out of a more than $3 billion pot. "Naturally, I'm thinking, let's bring it to Maitland."
Stein-Charlan agreed that Maitland should keep the pressure on by moving forward with termination. "The thing that brought this to a head is that we did push the issue," she said.
Assemblage key
Attorney Cliff Shepard said the developer must assemble the properties needed for the project by January's termination vote.
"If there's assemblage of the properties, then we have something to talk about. Without it, we have nothing," Shepard said.
Reese said the assemblage is "imminent". He said Harrell will be back right after Thanksgiving and show proof of funds. He also said he has deals with all the landowners. "We just have to put the pieces together. We pulled all the title work, and we just have to proceed toward closings. So it's imminent," he said.
Reese was timid at the podium, saying he was just there to answer Council's questions. He offered only one cautious statement:
"Starting from scratch will be detrimental to getting any kind of cohesive downtown."
Push back
Councilman Bonus, a lawyer, voted against bringing the default letter back for review on Dec. 13. He said it was needless to stall the process because the defaults are obvious. Councilwoman Reponen pointed out that the attorney had already itemized the defaults as part of the bankruptcy case, so it would require little effort.
But Councilwoman Linda Frosch, also a lawyer, said she'd like the opportunity to review it. "It sends a message that we do want to move forward, but let's do it properly," she said.
Schiferdecker agreed, saying Maitland needs to break its reputation of scaring off developers. He said he wants to embrace Harrell and find out what the joint venture partnership entails before the attorney mails the default letter.
"It's only three weeks; we've waited years," he said. "And we have somebody for the first time that has the money to do it."